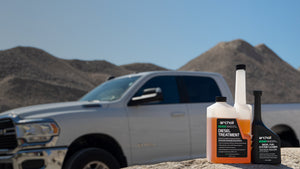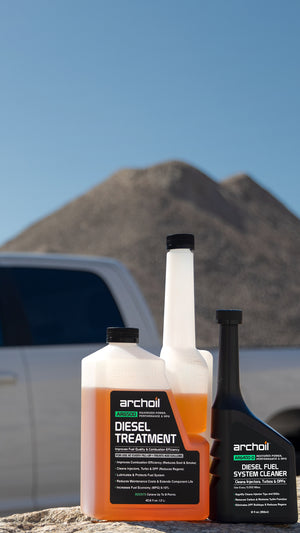 MAXIMIZE FUEL SYSTEM LIFE
AND PERFORMANCE
Clean and Boost your fuel system at every fill-up
Soot and carbon build-up in your fuel system is negatively affecting your vehicle performance and the life of your fuel system components.
Archoil's AR6500 is the essential everyday treatment for diesel owners, utilizing unique chemistry which dramatically removes carbon deposits from diesel injectors and post-combustion components, including the turbo and DPF.
AR6500 is an everyday treatment developed to protect your fuel system, restore performance, improve fuel economy and includes a strong cetane boost at every fill-up.
Introducing Archoil Products That Power Stroke Owners Need To Know About!
I serve the Power Stroke community and the vast majority of my customers own a business where their trucks are an essential component. If their truck is broken, their business is losing money and if you own one of these trucks you also know there is nothing cheap about repairing them!
PowerStrokeHelp.com is all about finding cost-effective and substantive solutions to expensive problems. When I find a worthwhile product or fix, it is my responsibility to educate you about it.
With that being said, I want to tell you about three products manufactured by Archoil that greatly diminish or eliminate all together some pretty costly issues inherent to Power Strokes. Not only are these products effective but their use costs you nothing or very little to reap huge benefits in engine longevity and drivability.
Use the links below to familiarize yourself with the outstanding benefits of Archoil's AR6500 and AR6400-D Diesel Fuel Treatments and AR9100 Friction Modifier. You'll be glad you did!
- Bill Hewitt
Let customers speak for us
AR9100 is outstanding!
I use in all diesel, gas, trucks/ cars plus boat and jet ski. Engines run smoother, fuel usage is reduced, improved response. The oil analysis I've done showed far below normal wear metals - I'm thrilled
Great Product
I've used it for only 6 months and from the beginning I noticed a big difference. I add some every time I fill my truck. About 2 weeks ago my truck turned the 400K mark and my truck never ran this good.
Satisfaction is for sure…
I bought my 2005 F 350 6.0 Super Duty Lariat used in 2017 with 174,000 miles on it. I never had a diesel before so I started looking online for some maintenance instructions and help. I came across Powerstrokehelp.com and watched some of the videos. I liked what I saw and thought I'd try the Archoil products plus the guy that does the major work on it suggested I put the oil additive in it. I now have over 205,000 miles on it and I am getting an average of 14 mpg out of it as long as I keep my foot out of it. The engine runs better and feels like it could run forever . I put the fuel system cleaner in every 3000 miles when I change the oil and it's always run smoothly in my opinion. I noticed a big difference in the way it ran when I put it in the first time and I fully intend to use all the products ( fuel additive, fuel system cleaner and oil additive) religiously !!!
Diesel Fuel System Cleaner
Great this is the 3 cycle I have used the product and it has improved my Truck performance. I have noticed my turbo is not as loud as it used to be, as well as the regen cycles on my truck are further apartment and when the clean exhaust filter message comes on it is much shorter in duration than it was prior to using the AR6400-D product. I also us the AR6500 Diesel Fuel additive and that has added to the improvement as well. I am changing the oil this weekend in preparation to making a 5K trip to the west coast and back from Texas and going to be using the AR9100 Friction Modifier for the 2nd time. So far I am totally sold on your diesel products in extending the life and improving the performance as I continue to drive it. I have followed Bill at Powerstrokehelp.com for over 3 years now and learned a lot of what needs to be done to the new environmental developed 6.7 trucks and I am very confident I am going to get my current truck to 300K plus with the maintenance schedule I have learned from Bill, the Amsoil folks and your products.
Awesome stuff
I've been running archoil friction modifier for about 3 years now. Every time I pull an oil sample the results come back saying I should run longer between oil changes. Going 10k mi between changes even on my rig that pulls 90% of the time.
Archoil AR6500
I use it religiously and it works great for reducing the amount of soot buildup. Performance and mileage is up while using this product. Combine it with Archoil Friction Modifier to prevent Stiction on your 6.0. I especially like buying from powerstrokehelp because the proceeds goes toward helping vets back into civilian life.
2008 F-250 6.4L power-stroke 489,000 miles
So far so good! Less regen cycles and seems to be cleaning the oil passages well. Cetane boost injector chemist has added a little pep in her step!